Blessed Mother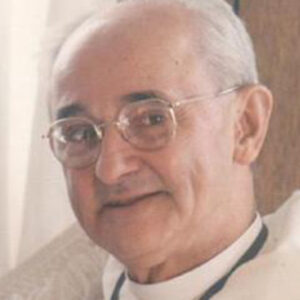 Click on headphones icon at left to listen to the audio of this transcript
Transcript
January 18, 1970 (tape 210-A, CD 22)
Sermon
I am going to take for my text this morning, a text which I cannot prove that it was written for this purpose, but to me it has a great bearing upon our work and our lives at this time. And it is from the 2nd Epistle of John and it goes thus: "The elders unto the elect lady and her children, whom I love in truth. And not I only but also they whom have known the truth; 2) For the truth's sake which dwelleth in us, and shall be with us forever. 3) Grace be with you, mercy, and peace, from God the Father, and from the Lord Jesus Christ, the Son of the Father, in truth and love. 4) I rejoiced greatly that I found of thy children walking in truth, as we have received a commandment from the Father. 5) And now I beseech thee, lady, not as though I wrote a new commandment unto thee, but that which we had from the beginning, that we love one another. 6) And this is love, that we walk after his commandments. This is the commandment, That, as ye have heard from the beginning, ye should walk in it."
That is the 1st through the 6th verses of the 2nd Epistle of John. I am particularly interested in the first and the last of this. For some reason, you people talk about our blessed mother these days. Perhaps because of the things which are happening in the Roman church and the some in Greek church but to me this is a little bit silly because I am not interested in what happens in church. I am interested in what happens in heaven or those, say, above the earth plane. And I express myself this morning as an elder, as a Teacher "unto the elect and her children whom I love in truth. And not I only, but also they that have known the truth; For the truths sake which dwelleth in us and shall be with us forever."
There is something about man down through the ages which has tried to keep himself apart from woman in the spiritual sense and way. Oh, yes, he has made a great ado about following those in the feminine pattern. He has denied our Lord. He's denied Christ. He's done everything that you can think of to follow a woman. But from a scriptural standpoint, no. He then turns and divides himself and says, "No, this cannot be."
I don't know whether you have had the pleasure of meeting our Lady or not. I don't know if you have even had the pleasure of meeting our Lady which is in the Order, of this Order. Oh, you have seen her. You probably spoke to her, but have you met her yet? Somehow I think that perhaps you haven't; perhaps you haven't met her yet.
But this morning I want to talk about our Lady whom has left behind the physical body and has gone beyond here. But who graciously and untiringly gives unto her son yet from that other plane of action, who still is in the service of the Father. Who still is giving to her Lord, her son, who still is giving unto that principle, the Lord of Earth, with all the devotion and all the love of true motherhood. For these days we see something we do not see very often – true motherhood.
Woman, in her effort in wearing the symbol of womanhood has tried to be like man, thinking that she has to be like man in order to be equal to him. Well this is absurd. For the rod and the Law and the staff are not the same and never will be. I am sure that if I want to use the Word and the Law, I am not interested in using the staff. I am sure that if I want intercession, I am not going to call on St. Jude for healing. I am sure that I am going to call on the Master Jesus. Or if I have a problem with a family somewhere, I am going to call on the Blessed Mary .
Somehow or other, people feel and have not reached the point where they are able to still feel, know and realize that when these people pass beyond into that other realm that they don't cease to exist. They don't cease to exist. Somehow they have not realized what it means to even prepare yourself to move into that other realm of existence to perform such a service. Mary not only gave the use of her physical vehicle to give birth to the Lord Jesus but she gave her whole life on the earth plane.
She knew not the joys of courtship and the joys that are so fulfilling and so gratifying to a young woman or one who is about to be married or one who is about to give birth to child. These she gave up completely from childhood. Somehow we forget when we use the Father, Son and Holy Spirit that back of that is the image of the Blessed Mary when it comes to the individual for intercession. Somehow we lose track of, in our own glorification and learning to use and know the Law and how to produce things on the earth, which is all right, but down underneath here, hidden very subtly, is our pride in what we do. And spiritual pride is one of the worst things that you can attain.
Down underneath here we have forgotten those that have paved the way for us to enter into this Age, who have for thousands of years paved the way. Oh, they're not all St. Mary . They're not all St. Jude or St. Timothy or St. Anthony or some other, or St. Michael. They are the host of thousands of people who have given their whole life to pave the Way so that the Master and that the earth could be at peace at the beginning in a short time. The unbespoken of service of those of the elite whom have passed through generations and generations unknown by man almost. The unspoken of, the unheralded, the unknown service of the true men of God, through our Lord Jesus Christ and even before him. Those who paved the way for the opening of the Piscean age even. These are all people that we have a debt of gratitude to. The Host.
We speak of it so tritely. So unknowingly. And with so little consciousness. Oh, we will go on and quote poetry about Mary but do we think of thanking her when we are alone? Do we think of thanking her that she gave to be able to typify woman in this age? The unpassioned giving of her being? Because if this hadn't happened it would have been very difficult for woman to even approach the place where you women are approaching. Even a little of it, to say nothing about the full of it. How many of you women have felt the gratitude to Mary for what she gave unto us? Because it is through the Lord Jesus Christ that you are able to have the cognizance of the reality of the truth so that you can manifest in your physical body in the priesthood and be attached to it once more.
Because you muffed it up once before. And the form became obsolete, absolutely obsolete in the priesthood. But don't forget, because you are wearing a physical female body, that doesn't mean that you are going to be a man. And if you do try it you are letting down the Master and our Blessed Virgin very much. You can be a woman and be strong. You can be a woman and be real. You can be a woman and be a priest. But not a jealous harridan. Not a chatterer about your sister or your brother. That has nothing to do with womanhood, true womanhood. You can know our Lord Jesus and the Blessed Mother providing you stop being jealous of somebody else. Providing you stop trying to be like somebody else. There is your image. Pattern yourselves after her and you too will know Her and our Lord also.
For in the last part of this text. "For this is love, that we walk after his commandment. This is the commandment that as ye have heard from the beginning, ye should walk in it. Speaking in love and truth to love one another."
And this unfortunately is the kind of love that expecteth nothing in return. It is the kind of love that gives without expecting and it is the tough kind of love to attain. Because you know the truth and you know you can't give without getting. But if you can obliterate the last part of that and really give without really expecting anything back, really, honestly, then you will know love, true love, the love that our Blessed Mother, the Blessed Virgin gave freely, willingly and continuously and is still giving. This is true love. The love that gives without expecting to receive. The love that gives and sends and does because it is right, it is true and it is real. The love that knows no one else that is below the standards of creation. The love that does not look for phenomena but the Light of our Blessed Lord of the Christos through his wisdom, through his words. Thus you attain it, through the reality of our Blessed Mother.
In the name of the Father, the Son and the Holy Spirit.