Tree of Life – Level 1, Lesson 2: Prayer 2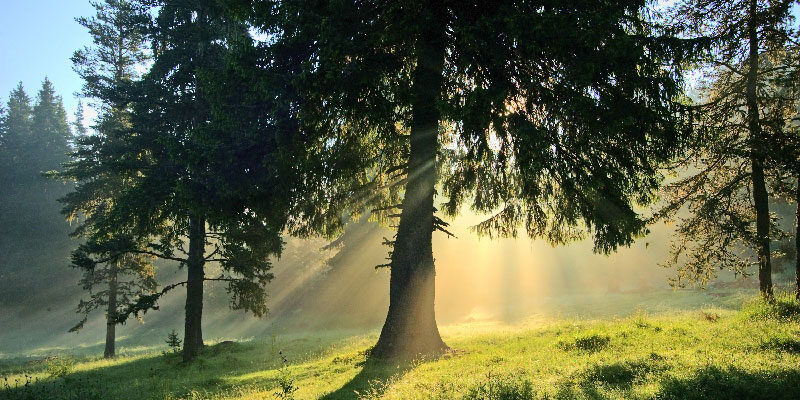 Our prayer work is scientific. Our definition of prayer is the scientific lifting up of our hearts and minds to God, our Creator. We pray in three forms: vocally, mentally and positively.
VOCAL PRAYER
We pray vocally because it is necessary to voice the WORD. As we speak, the words produce a certain rate of vibration, which sets up a certain rhythm, which can be measured scientifically.
Our scripture text supporting this is taken both from the Gospel of St. Matthew, and the Gospel of St. Luke. Jesus says in St. Luke 11:2—"…When ye pray, SAY…" In Matthew 7:7—"ASK, and it will be given unto you; seek, and you will find.." In Matthew 6:9—"Pray then like this: Our Father which art in heaven.." This will show the importance of voiced prayer.
MENTAL PRAYER
We teach prayer mentally because Mind is the realm of the Father. It is the place of creation. Our prayer, in order to be scientifically powerful, should be creative.
Read Matthew 7, Luke 11, and John 17. In Matthew, it says, as stated before, "ASK". In Luke 11:9, he repeats again, and says, "ASK". And in John 17, Jesus says that the Father gave Him power over all flesh—to give eternal life to all whom He had given Him and that He (Jesus) has given this to man—the ones which are the body of the Church—the ones that accept God wholly and multiply His works. This is one of the most exalting chapters in the Bible to show man's divinity.
In the twentieth verse, Jesus goes on to say that He prayed not only for the Elect, but also for those that became chosen through the acceptance of God, knowing that the Father was in them, as they were in the Father, thus becoming one with the Father. Here, again, this was a voiced prayer by Jesus.
SCIENTIFIC PRAYER
The use of Scientific Prayer brings into our life the manifestation of the Kingdom of God. In this School, we understand that prayer is talking to God, and Meditation is the process of receiving an answer.
Contemplation is the process of revelation of our prayer. Meditation is the formula through which it works. Contemplation is the laboratory where the science of prayer and meditation are analyzed and proven scientifically correct.
That which is not scientifically correct is not spiritually correct. That which is not scientifically or spiritually correct is not metaphysically correct. That which violates basic metaphysical laws, such as the Law of Cause and Effect, etc. also violates spiritual law.
The perfect prayer should contain praise and glory and worship to the Creator as is shown us in Matthew 6 (King James version) where Jesus says: "…For thine is the kingdom, and the power, and the glory…" The perfect prayer also contains thanksgiving to God for His many benefits.
The perfect prayer contains supplication to God for those things which we require, desire, wish, and want. The scriptures which back up these statements are of praise and worship:
Psalms 69:34, 9:2, 102:18, 104:35, 138:4, 95:6
Matthew 21:16, 2:2, 4:10
Luke 2:13, I Samuel 1:27, John 12:43, Acts 13:2
Deut. 10:21, Romans 12:1, Acts 3:8, Rev. 5:14
Read the scriptures above and while reading, read three verses before and three verses after the quote. This is so that we may know the truth ourselves. Thus, we become familiar with the Bible. Later in the lessons, we will become closer to great men of other times and faiths.
THANKSGIVING
Psalms 50:14, 95:2, 106:1, 145:10
Matthew 15:36, 26:27
Revelation 11:17
Read the same as the first group.
SUPPLICATION
Psalms 28:2, 130:2
Zac. 12:10
GLORY
Psalms 104:31, 149:9
Matthew 6:13
Exodus 24:16, 35:18, 40:34, 16:7, 16:10
From your first observations of these studies, you may have some questions. Do voice them. Let us say here that there will be more work on prayer from the scientific standpoint in the Second Level work in Communication. All of these scriptural references support our stand on Prayer.
Paul told Timothy "to study, to show himself approved a workman, not needing to be ashamed, but rightly dividing the word of truth." (R.V.)
This is good advice for the students of this School to follow. In fact, it is good advice for any Christian. Search these scriptures and study them. You will find the power of prayer.
Remember Paul's advice! "prayer without ceasing." It is a good example of conclusive supplicative prayer. It is the prayer that was prayed by Jesus (found in St. John 17).
PRAYER AND THE LAW
The Law is the most important facet of prayer. For the Law can become the nature of one's own Spirit and is the spiritual essence of this Law. King David said: "I delight in Thy Law day and night." This is prayer without ceasing.
The first portion of the Law is discussed in this lesson from Biblical references. The ever-active part of the Law and its place in creation is discussed in Light-Life-Love lessons. The remainder of the study of Law will be in that portion of our studies under the tools of man in the Second Level studies.
The portion of the Law, which we will now study is covered primarily in Matthew 7:21—"Not everyone that saith unto me, Lord, Lord, shall enter into the kingdom of heaven; but he that doeth the will of my Father which is in heaven."
So, the first portion of the Law of Prayer is the secret of using the WILL power after you have praised and worshipped and glorified God—after you have thanked Him and made your supplications known to Him. Use your power to bring into spiritual, or mental manifestation, the pattern or word form of the thing or relationship you want to manifest. Then, the Will of God will be manifest—"Because He wants to give you the Kingdom."
Setting Law of Prayer into action consists of demanding, affirming its presence, and doing. By this, you move out on the physical plane as if you could already put it in your pocket—making yourself accessible to receiving it.
After you have done this, you must go about acting as if you really knew your prayer was already answered affirmatively. You will be, therefore, demonstrating to the unseen Creator your ability to use the power of prayer—to bring about the material manifestation of His unseen reality.
Matthew 7:7 says: "Ask, and it shall be given you; seek, and you shall find; knock, and it shall be opened unto you." Analyze this statement. Look at the changes it can bring in your life. Put it to the test! See the effect of the Law.
When the Law of asking is put into effect, the result is that it will be given.
The Law says: "Knock"! When you have done this, the result is that it will be opened.
The Law says: "Seek"! And when you have sought, you will find. Because, there is no such thing as a negative prayer.
There is not, and cannot be, a negative answer to prayer. Remember! You shall reap what you have sown.
The effect of a fervent, righteous prayer shall be: everyone who asks, receives; he who seeks, finds; and to him who knocks, it will be opened.
We are sure that after studying this lesson, you will find irony of the Word spoken by the Apostle James. "The effectual fervent prayer of a righteous man availeth much."
We shall conclude this lesson with another statement from the Apostle James: "Be doers of the Word, and not hearers only, deceiving yourselves. For if anyone is a hearer of the Word and not a doer, he is like a man who observes a natural face in a mirror, for he observes himself and goes away, and at once forgets what he is like. But he who looks into the perfect Law, the Law of Liberty, and perseveres, being no hearer that forgets, but a doer that acts, he shall be blessed in his living."
PRAYER FULFILLS THE LAW OF DOING.
prayer from the book: "Thus I Have Heard"
The following prayer quoted from the "Aquarian Age" May-June 1924, is given here as an unfailing means of finding the Master in the heart. It should be meditated upon phrase by phrase with deepening realization until the full beauty and truth of the final words become matters of experience.
Bishop Leadbeater gave this prayer to his class in Melbourne, Australia, for a daily meditation. Every word was thought over for many months—then, thought out as to its connection with every other word. There is a deep occult significance in the combination of words, sentences, and ideas. There should be a pause after each phrase with deep meditation.
"O Gracious Lord, I enter Thy radiance, and approach Thy Presence, bearing with me the service done in Thy Name, and for Thee. I seek to become a more efficient server, and I open my heart and mind to the power of Thy Love, and Thy Joy, and Thy Peace."

"In Thy presence, Thy Peace enfolds me, and fills me with contentment, certainty, rest, stillness, Thy Peace which passeth understanding. I must therefore be a center of love, joy, and peace in the world."

"I place my hand in Thine with all love and trust and confidence, for Thou art indeed my Lord. From the unreal lead me to the Real, from darkness to Light, from death to Life Eternal. At Thy feet, and in the Light of Thy Holy Presence, I strive to realize what I am. I am not this body which belongs to the world of shadows; I am not the desire which affects it; I am not the thoughts which fill my mind; I am not the mind itself. I am the Divine Flame within my heart, eternal, immortal, ancient, without beginning, without end. More radiant than the sun in all His noonday glory, purer than the snow, untouched, unsullied by the hand of matter; more subtle than the ether is the Spirit within my heart. I and my Father are One."

"I worship Thee. I adore Thee; Thou my Life, my Breath, my Being, my All. I am in Thee and Thou art in me. Lead me, O Gracious Lord, through Thy illimitable Love to union with Thee, and the Heart of Eternal Love."

"In Thy Love I rest evermore." Amen.